Italian farmers have known about fennel health benefits for some time because they developed a variety of fennel with a tender, fleshy bulb that is perfect for use as a vegetable. Wild fennel grows all over the Mediterranean countries, and its seeds are rich in anethole, an essence with digestive properties.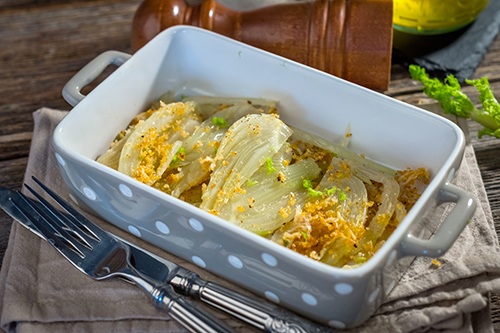 Fennel Health Benefits
Despite its high-water content (90.2 percent), fennel has significant amounts of carbohydrates (4.19 percent) and proteins (1.24 percent). It contains no fat (0.2 percent). It supplies few calories (31 kcal/100 grams), but its fiber content (3.1 percent) is considerable.
Its vitamin and mineral content are noteworthy, particularly potassium (414 mg/100 grams), folates (27 mg/100 grams), vitamin C (12 mg/100 grams), calcium (49 mg/100 grams), and iron (0.726 mg/100).
Fennel comprises an essential oil abundant in anethole, though in a lower quantity than the seeds. This adds to its digestive and carminative effects (stop intestinal gas production). Its fiber content makes it a mild cathartic or laxative. Fennel intake is recommended in these cases:
Dyspepsia (indigestion) because of its stimulating effect on digestive processes.
Constipation, due to intestinal atony (flaccidity or lack of tone).
Fennel Scientific Facts
Scientific name: Foeniculum vulgare Mill.
Other names: Finocchio, sweet anise, Roman fennel, sweet fennel.
French: Fenouil.
Spanish: Bulbo de hinojo, hinojo común.
German: Fenchel.
Description: Bulbs and stalks of various fennel of the botanical family Umbelliferae cultivated for food.
Environment: Fennel is cultivated in Mediterranean countries, particularly Italy. It is also being grown in the United States and temperate regions in South America.
How to use and Prepare Fennel
RAW: The tender bulbs may be eaten in salad seasoned with a bit of lemon and oil.
COOKED: Steamed or boiled as with any other vegetable. It may be prepared with béchamel sauce or melted cheese. It goes very well with potatoes.
REFERENCES
George D. Pamplona-Roger, M.D. "Encyclopedia of Foods and Their Healing Power." George D. Pamplona-Roger, M.D. Encyclopedia of Foods and Their Healing Power. Trans. Annette Melgosa. Vol. 2. Chai Wan: Editorial Safeliz, 2005. 161. Print. [fennel health benefits]