Along with the health benefits of watermelon, it is a very refreshing fruit. Biting into its sweet-smelling pulp and feeling the mouth full of juice is an absolute hot-weather pleasure. Watermelon and other melons have quenched humans' thirst for thousands of years. During their desert wanderings, the Israelites longed for the melons and watermelons they had eaten in the land of the pyramids. Egypt and the countries of the Mediterranean continue to be the primary producers of this fruit.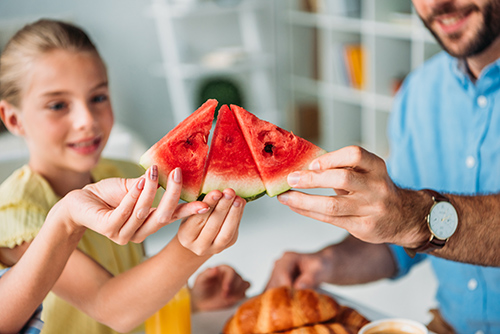 Watermelon Scientific Facts
Scientific name: Citrullus lanatus (Thumb.) Mansf.
Scientific synonyms: Cucurbia citrullus L. = Momordica lanata Thunb.
Other names: Jubilee.
French: Melon d'eau, pastéque.
Spanish: Sandía, melón de agua.
German: Wassermelone.
Description: Fruit of the watermelon plant, an herbaceous creeping plant of the botanical family Cucurbitaceae, which produces from three to five fruits weighing from three to ten kilos (about 6.6 to 22 pounds; the "Florida Giant" may weigh up to twenty kilos, approximately forty-four pounds.
Environment: The watermelon originates in the hot, dry regions around the Mediterranean. Its cultivation has extended to tropical and subtropical regions on the American continent. However, as with other melons, watermelons grown in humid areas are less sweet and tasty than those from hotter, drier climates.
Health Benefits of Watermelon
The watermelon's composition is like other melons, although it contains less vitamin C, folates, iron, and potassium, and more beta-carotene (provitamin A), vitamin B1, and vitamin B6. Its properties are analogous to other melons: hydrating, remineralizing, alkalizing, diuretic, and laxative. Watermelon may be even more diuretic than other melons.
Watermelon is indicated for disorders involving the kidneys and the urinary tract (kidney failure, kidney stones, infection) and whenever a depurant treatment is called to remove toxins from the blood. Treatment with watermelon may be done by alternating the fresh fruit with its juice, which is better tolerated in the stomach.
People with diabetes tolerate watermelon well because of its low sugar content. Since it only provides 32 kcal/100 grams and produces an immediate sensation of satiety, it is beneficial in weight-loss treatments.
How to use and Prepare Watermelon
FRESH: This is usually how watermelon is eaten. It is not recommended as a dessert since its significant water content is somewhat indigestible.
JUICE: Watermelon juice is recommended for those with weak stomachs since it does not contain pulp fiber, which may be indigestible.
REFERENCES
George D. Pamplona-Roger, M.D. "Encyclopedia of Foods and Their Healing Power." George D. Pamplona-Roger, M.D. Encyclopedia of Foods and Their Healing Power. Trans. Annette Melgosa. Vol. 2. Chai Wan: Editorial Safeliz, 2005. 251. Print. [health benefits of watermelon]
Last update on 2023-09-30 / Affiliate links / Images from Amazon Product Advertising API