The inner surface of the Rosa canina or brier hip fruit is covered by a layer of blonde, rigid hair, popularly called "itch-scratch)," that the great Font Quer said "incites itching when putting in-between the shirt and the skin. The same thing happens around the anus; after eating the rosa canina fruit, these hairs can go through the digestive tract untouched and leave the body."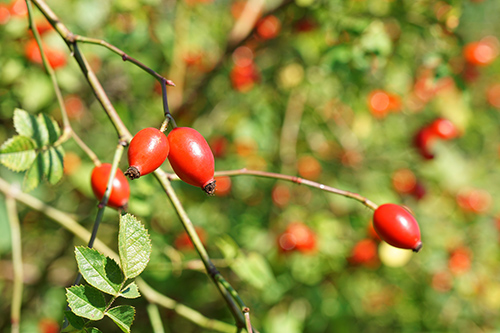 Rosa Canina Scientific Facts
Scientific Name – Rosa canina L.
Other Names – Wild brier, eglantine gall, brier hip, dog rose.
French – Rosier des chiens.
Spanish – Escaramujo, rosal sivestre, cinorrodon.
Environment – Common along roadsides and bushes all over Europe, and naturalized to America.
Description – Shrub of the Rosaceae family, growing from one to three meters high, with prickly stems. The leaves are alternated, with 5 to 7 oval folioles and toothed edges. The flowers of Rosa canina have 5 whitish or pink petals. What is usually known as a fruit, olive-shaped and red, is a quasi-fruit formed by the remnants of the flower calyx.
Parts of the plant used medicinally – The fruits, flowers, leaves, and roots.
Healing Properties
The FRUIT of rosa canina comprises a variety of organic acids and sugars, mineral salts, pectin, provitamin A (carotene), and vitamins B1, B2, C, E, and P (flavonoids). The plant's content in vitamin C reaches 600 mg per 100 grams and can be up to 800 mg, being more significant than that of lemon, which only comprises 50 mg. Therefore, Rosa canina is one of the richest plants in vitamin C, rated over the kiwi (300 milligrams), alfalfa (183 milligrams), and currant (170 milligrams).
Rosa canina is only second to the exceptional Malpighia punicifolia L., Malpighia glabra L. (Acerola), a fruit which, when ripe, can get to 2500 milligrams of vitamin C per 100 grams and, when green, can reach a jaw-dropping 6000 mg.
The properties of the Rosa canina FRUIT are the following:
Invigorating and antiscorbutic – They are helpful for physical exhaustion, asthenia (spring fatigue), and recovery. The fruits are an actual concentrate of vitamins, mainly vitamin C. Although scurvy (deficiency in vitamin C) is an uncommon condition in developed countries, a high-level supply of this vitamin has a stimulating effect.
Immunostimulant – The fruit is mainly used as a defense stimulant to avoid the cold and flu. It is advised for all infectious diseases, particularly in children.
Diuretic and depurative – They are recommended for edema (retention of liquids), an extreme diet rich in meat and its derivatives, arthritis, and gout, and whenever the action of a mild diuretic with depurative actions is needed.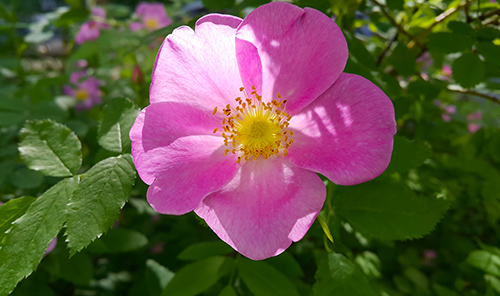 The FRUIT of Rosa canina has been used, eating it whole, against taeniae and other intestinal parasites, though with no scientific basis. According to some, the fruits are effective because of the itching hairs, which intestinal parasites could not survive.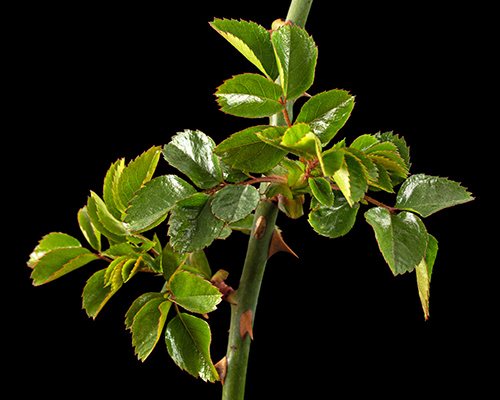 The PETALS contain pectin, organic acids, tannin, and a tiny amount of essence. Rose petals serve as a component to make rose water, from which good results are obtained when washing eyes suffering from conjunctivitis or inflammation of the eyelids (blepharitis).
The ROOT and LEAVES contain astringent properties and tannic acids. They are used for simple gastroenteritis and diarrhea.
The SEEDS of Rosa canina are tough and lack any impact on bladder stones, as previously believed, but when ground, they release toxic essence that impacts the nervous system.
Naked Supplements ROSA CANINA – Organic Rosehip Oil for Face, Nails, Hair and Skin – Cold Pressed Rose Hip Oil (16 oz)
PROFESSIONAL GRADE: 100% Pure, Organic – Cold pressed, fresh and high quality, no additives or fillers.
SKIN CARE: Apply to dry and cracked skin to nourish and rehydrate it. It's especially effective on dry, elbows, knees cracked lips and heels.
SCARS: Use on stretch marks, age spots, hyper-pigmentation, burns and scars; its astringent and skin nourishing properties will help to speed up the healing process, as well as hydrate and moisturize the area.
HAIR: Excellent for dry hair and scalp. BRITTLE NAILS: Apply for a week every evening and see the extreme difference.
BULK PRICING: Save money with bulk packaging. The absolute highest quality at the best pricing.
How to use Brier Hip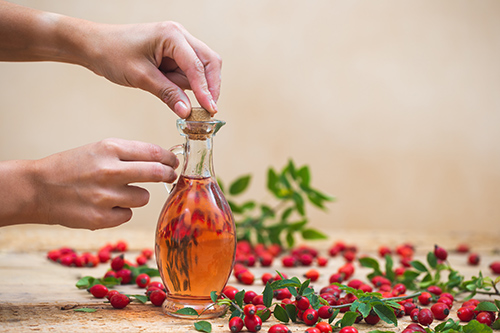 Fresh fruit – This is the best way to take advantage of the vitamin C content. Choose ripe fruit, open it, and wash it with water, withdrawing all hairs and seeds. Eat a generous handful every day.
Fruit decoction, with 50 to 60 grams of the fruit per liter of water. Drink 4 or 5 cups of rosa canina tea daily. Though vitamin C is lost, the diuretic, depurative, and mild astringent properties remain.
Decoction of root and leaves, with 100 grams of root and leaves of brier hip in 1 ½ liter of water. Boil the liquid until it reduces to one liter. Drink several cups a day as an antidiarrheic.
Water of roses – Steep in cold extract a handful of brier hip petals in a glass of water. After 24 hours, wring them out and throwing away the petals. Wash the eyes with the resulting liquid.
Raw Brier Hip Marmalade
After cleaning the fruit, mash it into a cream, and put in the same weight of sugar. They will keep all vitamins and will acquire a pleasant flavor. This marmalade or jelly can be well-preserved for several days when kept inside a fridge.
CITATIONS
George D. Pamplona-Roger, M.D. "Encyclopedia of Medicinal Plants." George D. Pamplona-Roger, M.D. Encyclopedia of Medicinal Plants. Ed. Francesc X. Gelabert. vols. 2 San Fernando de Henares: Editorial Safeliz, 2000. Seven hundred sixty-two, seven hundred sixty-three, seven hundred sixty-four. Print.
Last update on 2023-12-06 / Affiliate links / Images from Amazon Product Advertising API