The evening primrose plant, whose flowers open at night, was introduced to Europe in the early part of the 17th century and used as an ornamental plant. Soon, people noticed that its fleshy root was tasty, and the plant was useful not only as an ornament. In central Europe, the root of the evening primrose plant became a war-time food between the 18th  and 19th centuries.
Nature's Bounty Evening Primrose Oil, Promotes Women's Health, 1000 mg Evening Primrose Oil, 60 Rapid Release Softgels
SUPPORTS WOMEN'S HEALTH Nature's Bounty Evening Primrose Oil supports women's health (1)
GAMMA-LINOLENIC ACID (GLA) Contains a natural source of the unsaturated fatty acid Gamma-Linolenic Acid (GLA)
NATURE'S BOUNTY VITAMINS Whether you're looking for overall wellness support or specific benefits we're here to help support your health goals
NATURE'S BOUNTY FOR A HEALTHY LIFE At Nature's Bounty we want to help you maintain wellness at every stage of life and carry a range of vitamins and supplements to support women's health (1)
However, the plant was hardly appreciated until today. It is still known with derogatory names in France and Spain, related to donkeys that eat it happily. Nonetheless, research conducted in the early 80s showed that evening primrose oil has interesting medicinal properties. In Germany and the United States, generally much research has been carried out in clinics with patients suffering from circulatory, nervous, genital, and rheumatic disorders, with excellent results.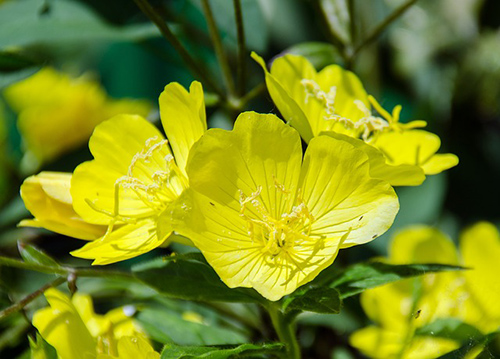 The application of the evening primrose plant, whose prestige and popularity in the phytotherapeutic world are growing, is still being investigated.
Healing Properties and Indications
The oil extracted from the evening primrose seeds is extremely rich in polyunsaturated fatty essential acids, the most outstanding of which linoleic acid and linolenic acid, whose other chemical extract names are respectively cis-linoleic acid and gamma-linolenic acid. The latter plays a significant role in the body as a chemical precursor of prostaglandins, recently discovered substances with many metabolic functions.
The evening primrose plant is the only vegetable known with notable linolenic acid, also found in human milk and indispensable for our body (an essential fatty acid).
The linolenic acid and its immediate derivative substance, prostaglandin E1, are indispensable for the stability of the cell membranes of the whole body for the development of the nervous system, for the balance of the hormonal system, and for regulating the processes of blood coagulation, among other functions. The list of diseases in which the evening primrose oil has been applied is thus very long: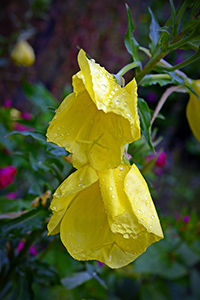 High cholesterol in the blood, and, as a general rule, in all hyperlipemia (increase in the fatty content of the blood).
Circulatory disorders: Tendency toward high blood pressure and thrombosis due to the increase of platelet aggregation. It may act to prevent cerebral vascular accidents (thrombosis, cerebral hemorrhage) and heart attacks because it dilates arteries and prevents the formation of clots and platelet aggregation.
Reproductive disorders: Dysmenorrhea, irregular menstruation cycles, pre-menstrual syndrome, sterility due to ovarian insufficiency.
Nervous system afflictions: Parkinson's disease, multiple sclerosis, and as a rule, all afflictions caused by neuronal degeneration.
Behavior disorders: Irritable children, nervousness, neurasthenia, schizophrenia.
Immune response disorders: Allergies, asthma, eczema, atopic dermatitis.
Rheumatism: Rheumatic arthritis and general rheumatic processes.
Dermatological problems: Excess sebaceous secretion (acne), wrinkles or skin dryness, weakness of nails and hair. We know that the Algonquin Indians of North America rubbed their skin with mashed evening primrose seeds to fight skin blemishes more than five centuries ago.
Evening Primrose Plant Scientific Facts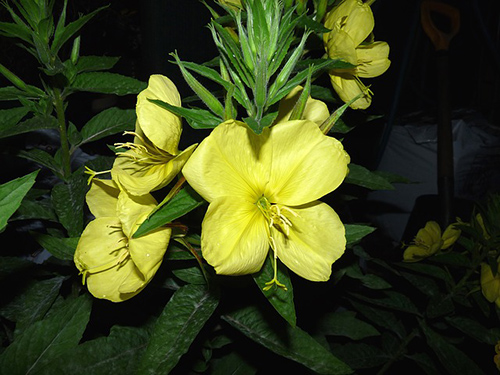 Other names: Fever plant, field primrose, king's cureall, night-willow herb, scabish, scurvish, tree primrose, primrose.
French: Onagre, raiponce rouge, herbe a l'ane.
Spanish: Onagra, hierba del asno, primula.
Environment: Native to North America, it has been naturalized in Europe. It grows on roadsides and near railroads, as well as in sandy, humid soils.
Description: Biennial plant of the Enoteraceae family, growing up to one meter high in its second year. Upright stem, with large hairy leaves. Yellow flowers with four petals and a sweet aroma.
Parts of the plant used medicinally: Seeds.
How to use Evening Primrose
Capsules or pills: The best way to take advantage of the properties of the evening primrose plant is by taking the oil of its seeds obtained by cold pressure as capsules, oils, or similar preparations. This is perhaps the most expensive vegetable oil known. Fortunately, the therapeutic dose is only two to four grams daily.
REFERENCES
George D. Pamplona-Roger, M.D. "Encyclopedia of Medicinal Plants." George D. Pamplona-Roger, M.D. Encyclopedia of Medicinal Plants. Ed. Francesc X. Gelabert. vols. 1 San Fernando de Henares: Editorial Safeliz, 2000. 237, 238. Print. [evening primrose plant]
Last update on 2023-12-02 / Affiliate links / Images from Amazon Product Advertising API