The benefits of eating onions are vast. I'm sure many of us have cried when tackling this vivacious bulbous plant. According to Andres de Laguna, a Spanish physician of the 16th century, women used it "when, unable to cry, wanted to provoke tears to move their husbands." Professionally hired mourners also used onions.
Best Naturals Onion Dried Bulb 1300mg per Serving – 60 Capsules – Also Called (Allium Cepa)
3rd Party Lab Tested for Purity & Quality.
1300 mg of Onion Dried Bulb per Capsule – 60 Capsules per Bottle
Non-GMO & Gluten Free.
Proudly Made in USA, GMP Compliant, FDA Registered Facility.
No Artificial Color, Flavor or Sweetener, No Preservatives, No Sugar, No Milk, No Corn, No Soy, No Egg, No Lactose, No Gluten, No Wheat, No Yeast, No Fish. Sodium Free.
Indeed, neither these nor any other were conscious of the tremendous benefits of eating onions. The ancient Egyptian, Roman, Greek, and Babylonian physicians knew about its properties and widely employed the onion as a medicinal plant.
The Spanish saying "with you, bread and onion" refers to this edible bulb's apparent humbleness and simplicity. However, modern biochemical research has discovered in the onion extraordinary medicinal properties. The onion is an antibiotic, antidiabetic, aphrodisiac (despite its smell), and even prevents intestinal cancer. It is a fundamental element of the Mediterranean diet, raw in salads and in the most diverse cooked meals, always dressed with good olive oil. Eating an onion a day gives abundant health. And though preparing it may make us cry, it will make us laugh in happiness in the future.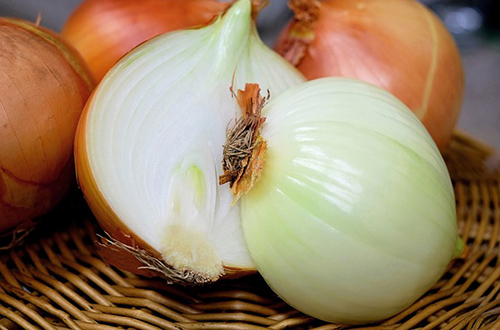 Healing Properties and Benefits of Eating Onions
The plant contains a volatile essence, rich in sulfured glycosides, such as allyl propyl disulfide, the most important. To this essence, the onion owes most of its properties. It also contains plenty of enzymes, with dynamic action on the digestion and the metabolism, trace elements (sulfur, iron, potassium, magnesium, fluoride, calcium, manganese, and phosphorous), vitamins (A, B complex, C, E), flavonoids of diuretic action, and vegetal hormone with antidiabetic activity, the glycoquinine.
The healthy and healing virtues of the onion are like those of the garlic, which, instead of allyl propyl disulfide, contains a similar substance, allyl disulfide. The properties of the onion are the following: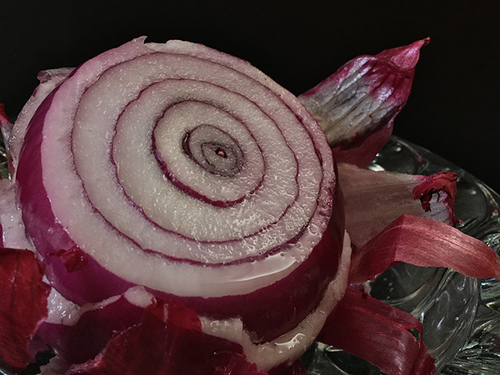 Antibiotic. The raw onion juice is a proper antibiotic with proven activity against different bacteria that usually provoke skin infections, including golden staphylococcus. Thus, it is used to heal wounds and furuncles (infected spots), abscesses, burns (avoiding their infection), skin wrinkling, and acne. In all these cases, it is externally applied, mashed into a poultice, or a lotion with the fresh juice or in compresses. To ripen abscesses, use a hot dressing of boiled or grilled onion.
Expectorant and pectoral. Because it is antibiotic, mucolytic, and anti-inflammatory, it is an ideal remedy for the case of respiratory afflictions: respiratory catarrh, sinusitis, pharyngitis, laryngitis, bronchitis, cough, bronchial asthma, and lung emphysema. Onion syrup with honey is a traditional method of administration in these cases. Gargling with onion broth reduces the inflammation of the pharynx and is very useful for tonsillitis (sore throat).
Hypotensive, diuretic, depurative. It is highly recommended for people suffering from high blood pressure, obesity, rheumatism, arthritis, gout, and kidney ailments. It is also suitable for albuminuria and nephrosis, retention of liquids, sand, and urinary stones. It notably alkalinizes the urine pH, thus promoting the elimination of uric acid and other metabolic, toxic waste.
Blood-thinning. One of the top benefits of eating onions is its effect on people with thrombosis by making blood more fluid and better flowing. This benefit is a proven fact: the onion contains fibrinolytic substances, which break up blood clots and prevent an excessive formation of clots. It has also been proven that onion acts as a platelet anti-gatherer, preventing the extreme propensity of the platelets in the blood to gather, forming thrombi or clots.
Vermifuge. Amongst the many benefits of eating onions is it is helpful against pinworms and the small white worms that cause itching in children. In this case, it should be eaten raw.
Hypoglycemic. Due to the action of glycoquinine, the level of glucose in the blood decreases. As a complement in the treatment of diabetes, it allows a reduction of the insulin dosage or that of antidiabetic medicines.
Digestive and general stimulating of the body. It boosts all digestive secretions (gastric, intestinal, pancreatic), thus improving the digestion and the assimilation of meals. Therefore, people suffering from hyperacidity or gastric and duodenal active ulcers should not use it. Onions stimulate the metabolic and detoxifying liver functions and should be enjoyed by anyone suffering from hepatic disorders, such as persistent hepatitis, cirrhosis of the liver, fatty degeneration of the liver, or hepatic inefficiency.
     Thanks to its antiseptic and antibiotic activity, it normalizes intestinal flora by decelerating the rate of the putrefaction process, in which highly irritant, toxic substances such as indole and skatole are released. These substances increase the growth of cancers in the colon and the rectum; hence, one of the most important benefits of eating onions is the preventative effect on intestinal cancer.
The onion's exhilarating action is due to its enzymes that stimulate blood production and energizes the metabolism. It also provides trace elements and iron. Its purported aphrodisiac effect would be due to the typical revitalization it produces.
Cosmetic and external applications, the onion stimulates hair growth, soothes and makes skin more beautiful, cleans skin with acne. For best results, a combination of the exterior and the internal uses is recommended.
Onion Juice
Onion juice is mainly used as an expectorant and a diuretic. However, for centuries it has been used to treat spasms and worms. It has gas-dispelling properties and is a general tonic that tones the stomach. As an antiseptic, onion juice helps to eliminate fermentation and putrefaction processes in the gastrointestinal tract. It is also advantageous in lowering blood pressure and strengthening the heart. When combined with honey, it is suitable for coughs and hoarseness.
In external applications, onion juice can be placed on festering wounds.
WARNING: According to a study done in California, volunteers discovered that heavy and prolonged use of onion oil resulted in severe iron anemia.
Onion juice: Take one teaspoon three to four times a day. Cold Extract: Soak a chopped onion in one cup of water for twenty-four hours and strain and take ½ cup daily. Decoction: Boil a medium-sized, chopped onion in a little more than a cup of water until one cup of liquid remains. Take one tablespoon several times daily for several days.
How to use Onions for Best Results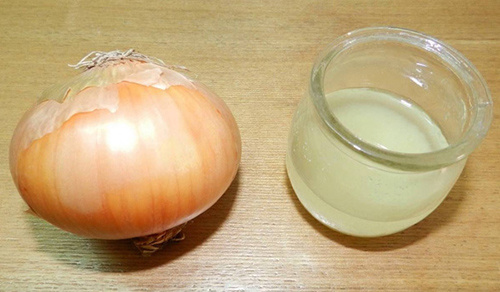 Raw. Whenever you can, and if your stomach can stand it (make sure to use it in progressive doses). It is best to eat the onion raw to increase its effectiveness. Mainly, it is eaten grated or sliced in a salad accompanied with some lemon juice and oil. A medium-sized onion a day is the recommended therapeutic dose. However, the maximum amount depends on your tolerance.
Fresh juice by using a blender to grind the bulb and mixing it with carrot juice, honey, lemon, or tomato. This concoction can be taken by spoonfuls. Also, you can drink half a glass, 2 to 3 times daily.
Boiled or grilled onion. The acid and sour taste are not present when taken this way; therefore, the stomach will better tolerate it. Unfortunately, you will lose a little of the active components responsible for the onion's antibiotic effect. Boiled or grilled onions can be eaten in large amounts without having to risk any form of rejection. When you cook onions in water, the broth is highly nutritious and should be consumed. The minimum dose recommended when consuming boiled or grilled onions for medicinal uses is 2 to 3 onions daily with the broth.
Onion syrup.
Apply the fresh juice on your skin as a wet compress or a lotion.
Boiled onion compresses are beneficial to ripen furuncles and abscesses. Also, applying a boiled onion to the skin renders excellent results.
Gargle with the broth obtained by boiling the onions.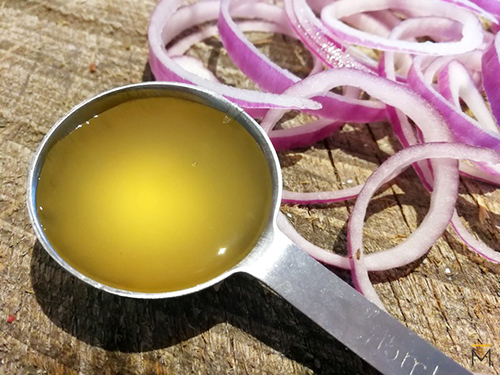 Onion Scientific Facts
French: Oignon.
Spanish: Cebolla.
Environment: Native to Iran and the Middle East, it is now widely spread and farmed worldwide.
Description: Vivacious bulbous plant of the Liliaceae family, growing up to one meter high. During its first year of life, it forms the bulb, and during the second, the stem grows, the plant blooms, and renders fruit.
Parts of the plant used medicinally: The bulb.
Sea Squill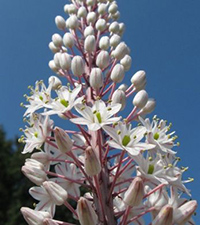 There is a variety of wild onions growing in the coastal regions of Europe, which draws attention because its bulb is not wholly underground like the common onion. Its common name is sea squill.
Sea squill contains escilacarenes, a glycoside substance with cardiotonic action similar to that of the foxglove plant. It was used in ancient times as an alternative to foxglove treatments in dosages from 0.5 to 0.7 g of ground bulb per day. Higher doses produce nausea, vomiting, arrhythmia, and even heart failure. Thus, it is regarded as a toxic plant, which of course, must always be used under medical supervision.
REFERENCES
George D. Pamplona-Roger, M.D. "Encyclopedia of Medicinal Plants." George D. Pamplona-Roger, M.D. Encyclopedia of Medicinal Plants. Ed. Francesc X. Gelabert. Vols. 1 San Fernando de Henares: Editorial Safeliz, 2000. 294, 295, 296. Print.[benefits of eating onions]
Vance Ferrell Harold M. Cherne, M.D. The Natural Remedies Encyclopedia [Book]. – Altamont, TN: Harvestime Books, 2010. – Vol. Seventh Edition: 7: pp. 171.
Last update on 2023-09-30 / Affiliate links / Images from Amazon Product Advertising API