The people of Central Europe already knew about the many turnip health benefits for centuries. Although this vegetable is neglected today from a culinary and nutritional point of view, these roots have served dietary needs for centuries, both for livestock and humans. Turnips were eaten almost daily in Germany during the Middle Ages and into the modern ages. During the cold central European winters, turnips and fermented cabbage (sauerkraut) were the only vegetables available.
Although apparently of little nutritional value, this vegetable of the Crucifer family contributed to the survival of the robust Germanic people for hundreds of years and even millennia. Despite its enormous popularity in Europe, the turnip was overtaken by the potato from America when it swept over the Old World. Since the French Revolution, more potatoes and fewer turnips were cultivated in Europe, so the latter has been almost forgotten.
However, the root, particularly the leaves, or turnip greens, are returning to the stage today as their composition and therapeutic properties become better known.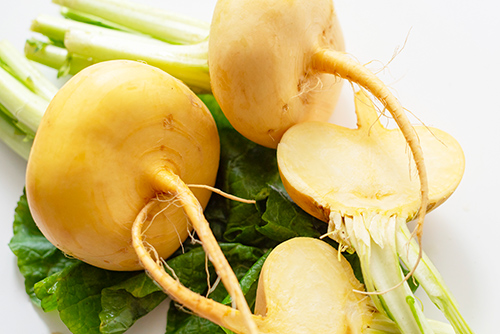 Turnip Nutritional Facts
The turnip contains considerably more water than the potato. This reduces its energy-producing potential: carbohydrates, proteins, and fats. It has small amounts of B complex vitamins (B1, B2, B6, niacin, and folates). It also contains a good supply of vitamin C (one hundred grams of turnip supplies 21 mg of this vitamin, more than one-third of the daily requirement for an adult male). Turnips lack provitamin A (beta-carotene), vitamins E, and B12.
The turnip's most abundant mineral is potassium, followed by sodium. It also contains modest quantities of calcium, phosphorous, iron, and trace elements. Also, It is pretty high in fiber. Taken as a whole, the turnip provides little energy, virtually no fat, and considerable fiber. Because of its non-nutritive compounds, similar to those in cabbages but poorly understood, the turnip is alkalizing, blood purifying, and diuretic.
Turnip Health Benefits
Gout – Eating turnips facilitates urinary elimination of the uric acid, generally produced as the body metabolizes proteins. Excessing this substance creates a toxic state in the body (gout) where uric acid crystals are deposited, particularly in the joints, causing inflammation and rheumatic pain. Eating turnips "cleanse" the blood of uric acid and other metabolic residues. Thus, they relieve those with gout or others suffering from rheumatic pain caused by uric acid.
Obesity – Turnips provide a considerable sensation of being satisfied with few calories. They are a nutritional component effective in weight loss diets, easily digested, and lacking fat.
Turnip Greens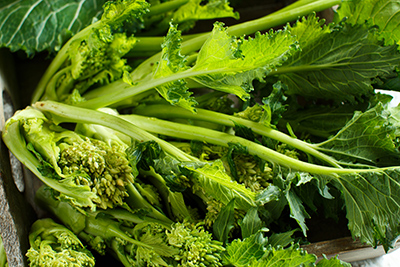 This is the most calcium-rich of the leafy green vegetables and much more nutritious than the turnip itself. Generally, the tops of turnip greens have been discarded or fed to animals. Today, turnip greens are much healthier than the turnip itself. Many are learning to enjoy this leafy green's pleasant flavor and vitamin and mineral richness.
Turnips greens may be eaten raw in a salad (while fresh) or cooked in the same manner as spinach. These greens provide almost twice the proteins and fiber as the root, although fewer carbohydrates. However, their most outstanding nutritional feature is their concentration of vitamins and minerals, several times that of the root.
Turnip greens contain considerably more calcium than milk. Turnips are this mineral's richest leafy green vegetable, followed by chard and spinach. Although turnip greens also contain oxalic acid, which interferes with calcium absorption, they are an excellent plant-based source of calcium. They are highly recommended for those needing to increase their intake of this mineral.
Turnip Scientific Facts
Scientific name: Brassica rapa L.
French: Navet, chou-rave.
Spanish: Nabo, colinabo.
German: Herbstrübe.
Description: Roots and leaves of the turnip plant, of the botanical family Cruciferae, because it is a tuberous root and not a tuber, the turnip does not have sprouts or eyes, as does the potato. Turnips may be round, cylindrical, and conical. Their exterior color is white or reddish; internally, they are always white or yellowish.
Environment: Turnips are grown primarily in Germany, the Mediterranean coast of southern Europe, and to a lesser extent, in the south of the United States. They adapt well to cold climates.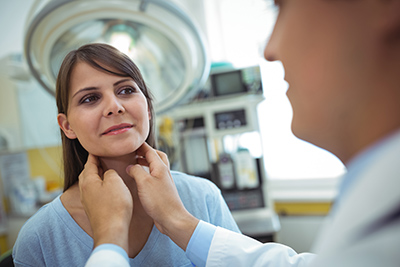 Turnips and the Thyroid
The turnip, like other Crucifers, contains substances that can interfere with thyroid function. Regular turnip consumption poses no risk to persons with normal thyroid function. However, they should be avoided in hypothyroidism (diminished thyroid function).
How to use and Prepare Turnip
Root – This is eaten cooked accompanying rice dishes and legumes. Rice with beans and turnips is a typical dish of the Valencian Levant in eastern Spain.
Fresh leaves (greens) – May be eaten raw in a salad or cooked like spinach.
REFERENCES
George D. Pamplona-Roger, M.D. "Encyclopedia of Foods and Their Healing Power." George D. Pamplona-Roger, M.D. Encyclopedia of Foods and Their Healing Power. Trans. Annette Melgosa. Vol. 2. Chai Wan: Editorial Safeliz, 2005. 320, 321. Print.
Last update on 2023-09-30 / Affiliate links / Images from Amazon Product Advertising API