The many litchi fruit benefits are not all there is to report regarding this nutritious food. The litchi is one of the symbols of the great nation of China, where it has been cultivated for over four thousand years. Its red, pink, or green rind encloses a shiny, sweet, somewhat tart pulp that smells faintly of roses. The litchi is related to lychee, rambutan, and longan, fruits that are also native to China.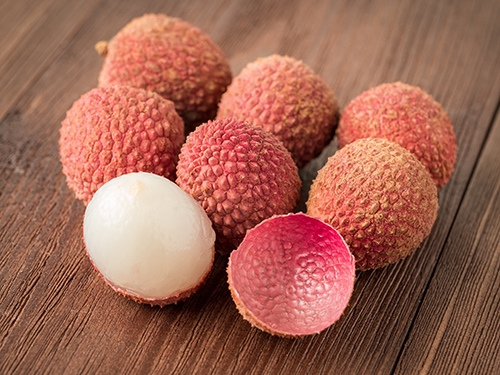 Litchi Scientific Facts
Scientific name – Litchi chinensis Sonn.
Other names – Lychee, lychi, litchi nuts.
Spanish – Litchi, mamoncillo chino.
German – Litschi.
Description – Fruit of the litchi, an evergreen tree of the botanical family Sapindaceae, reaches 40 feet. The fruit hangs in bunches and is oval-shaped, measuring 3 to 4 cm in diameter. It encloses a single brown pit.
Environment – Native to southern China, its cultivation has spread to subtropical regions worldwide, primarily India, South Africa, Brazil, Australia, and Florida.
Litchi Fruit Benefits
Litchis contain a significant proportion of carbohydrates in the form of sugars, although very few proteins and fats. They have less water than most fresh fruits, which makes them quite concentrated and energy-producing.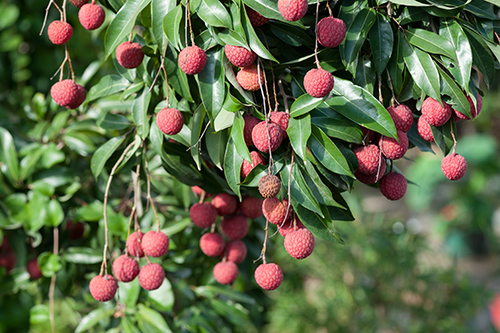 Litchis contain all vitamins except provitamin A and vitamin B12, but they are noted for their vitamin C content, which is superior to oranges or lemons. One hundred grams of litchis supply more than an adult male's daily vitamin C requirement (60 mg). Investigators in Calcutta, India, have found that litchi LEAVES have anti-inflammatory, analgesic, and antipyretic effects.
The fruit contains the same active substances as the leaves but in lower proportions. Because of their analgesic and antipyretic effects and their vitamin C richness that increases disease resistance, litchis are highly praised for infectious diseases to complement specific treatments. Additionally, eating litchis regularly stimulates the immune system and helps prevent infection.
The litchi has been prized for its delicate flavor and medicinal properties. It contains several vitamins and minerals that make it beneficial to our health. Some of the litchi fruit benefits include:
How to use and Prepare Litchi
Fresh – Their white pulp, whose consistency is reminiscent of the grape, combines well with other fruits and even rice.
Dried – They store very well dried, and their nutrient concentration is multiplied three times. However, They lose 20 to 50 percent of their vitamin C.
Frozen – Litchis stores well frozen for up to a year, facilitating their long-range transport. They lose 10 to 15 percent of their vitamin C.
Canned – These are usually prepared in syrup.
REFERENCES
George D. Pamplona-Roger, M.D. "Encyclopedia of Foods and Their Healing Power." George D. Pamplona-Roger, M.D. Encyclopedia of Foods and Their Healing Power. Trans. Annette Melgosa. Vol. 2. Chai Wan: Editorial Safeliz, 2005. 366. Print. [litchi fruit benefits]
Last update on 2023-10-01 / Affiliate links / Images from Amazon Product Advertising API