One of the most visited monuments in Spain and perhaps Europe is the Granada Alhambra, and it has a beautiful yard dedicated to the myrtle plant. In this yard, the refined Arabic art mixes with green color and the aroma of this shrub. Both Dioscorides, the great Greek physician and botanist of the 1st century A.D., and Avicenna, the Arabic physician of the 11th century, recommended myrtle because of its astringent and antiseptic properties.
Deve Herbes Pure Myrtle Essential Oil (Myrtus communis) 100% Therapeutic Grade…
FINEST QUALITY MONEY CAN BUY. 100% SATISFACTION & PURITY GUARANTEE – We, the manufacturer, Deve Herbes, guarantee that our oils are pure & natural. We offer 100% satisfaction guarantee on our products. If you are unsatisfied for any reason we will replace your product or refund your money. We believe our oils will impart lasting therapeutic benefits to you. We believe in our products & have been offering 'No Questions Asked Money Back Guarantee' for the last 9 Years.
Quantity -10ml (0.33 oz) Container Type – High Quality Amber Glass Bottle. Botanical Name -Myrtus communis, 100% Pure, Natural, Undiluted, Premium, Therapeutic Grade Essential Oil Alcohol free, Solvent Free, Vegan, Cruelty Free, Not Tested on Animals. Method of Extraction – Steam Distillation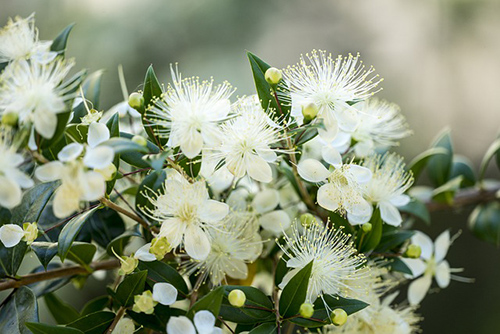 Healing Properties and Indications
The leaves and berries of myrtle contain tannin, resin, bitter components, and mainly myrthol, an essence rich in cyneol, with antiseptic and antibiotic properties against gram-positive germs. Its antiseptic and astringent properties make myrtle a beneficial plant for the following afflictions:
Respiratory disorders: Rhinitis, sinusitis, bronchitis, due to the action of its essence.
Diarrhea, gastroenteritis, dyspepsia, and urinary infections due to its content in tannin when taken as an infusion.
Stomatitis (inflammation of the oral mucosal membrane), and pharyngitis, when applied as a gargle.
Leukorrhea (abnormal menstrual flow), applied through a special catheter in washing or vaginal irrigations.
How to use Mrytle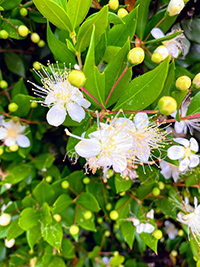 Infusion with 15-20 g of leaves and berries per liter of water. Strain and drink from there to five cups a day.
Essence: One to three drops, three times a day, before meals.
Gargles with the infusion employed in internal use.
Vaginal irrigation with this infusion carefully strained.
Inhalations of the essence.
Myrtle Plant Scientific Facts
French: Mrytle.
Spanish: Arrayan, mirto.
Environment: Native to Europe, although it also grows in America.
Description: Shrub of the Myrtaceae family, growing up to three meters high, with branched stem, white or pink flowers, and blackberries of sour but aromatic flavor.
Parts of the plant used medicinally: The leaves and the berries.
Mexican Myrtle
Another myrtle plant species grows in Mexico, where it is known under the name of guayabito (Myrtus Florida D. C.). This name is also applied to the species communis. The Mexican myrtle is used in the same applications as common myrtle because of its astringent properties. Its berries are red.
REFERENCES
George D. Pamplona-Roger, M.D. "Encyclopedia of Medicinal Plants." George D. Pamplona-Roger, M.D. Encyclopedia of Medicinal Plants. Ed. Francesc X. Gelabert. Vols. 1 San Fernando de Henares: Editorial Safeliz, 2000. 317. Print. [myrtle plant]
Last update on 2023-09-30 / Affiliate links / Images from Amazon Product Advertising API