Before getting into the health benefits of leeks, let us learn more about this nutritious food. Leeks differ from onions because they have virtually no bulb but develop much more stalks. These, together with garlic, belong to the same botanical family and share many properties.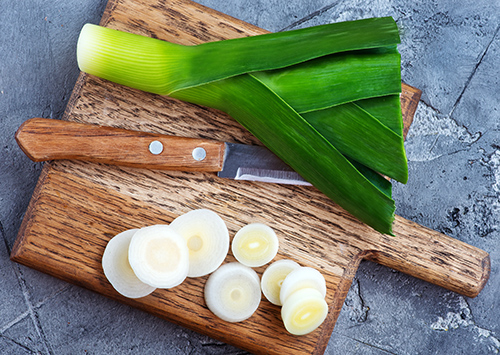 Leek Scientific Facts
Scientific name: Allium porrum L.
Related species: Allium ampeloprasum L.
Other names: Poor-man's-asparagus.
French: Poireau.
Spanish: Puerro, ajo puerro.
German: Porree.
Description: Stalks of the leek, a herbaceous plant of the botanical family Liliaceae.
Environment: Native to Mediterranean regions of Southern Europe and the Near East, where they still grow wild. Today leeks are grown throughout Europe, particularly in France and Germany.
Health Benefits of Leeks
The composition of the leek is similar to that of the onion, although it contains more folic acid and minerals. Among these, the most notable are calcium, magnesium, and iron. One-half kilo of leeks provides the 10 mg of iron that an adult requires daily and one-third of the daily need for calcium. Their vitamin content is negligible.
Although in lower concentrations, leeks contain an essential oil similar to onions. Its indications are as follows:
Uratic arthritis – The body produces uric acid daily as a residue of the metabolism of proteins, which is excreted through the urine. When excess uric acid is made, it tends to deposit in joints, causing inflammation and pain (arthritis). Leeks' alkalizing and diuretic effects increase urinary elimination of uric acid. They are particularly beneficial for arthritis, gout, and kidney disorders.
Bronchitis and sinusitis due to their mucolytic (fluidization of mucus) effect and the antiseptic properties of their essence.
Constipation, because of the laxative effect of their fiber. Leeks can produce intestinal flatulence.
How to use and Prepare Leek
Raw – When they are young and tender, they may be eaten raw in salads, as are onions.
Boiled or steamed – This is an exquisite dish prepared with oil, lemon, or mayonnaise.
Cooked – As part of a variety of dishes. Leeks combine well with potatoes and eggs.
REFERENCES
George D. Pamplona-Roger, M.D. "Encyclopedia of Foods and Their Healing Power." George D. Pamplona-Roger, M.D. Encyclopedia of Foods and Their Healing Power. Trans. Annette Melgosa. Vol. 2. Chai Wan: Editorial Safeliz, 2005. 319. Print. [health benefits of leeks]
Last update on 2023-12-04 / Affiliate links / Images from Amazon Product Advertising API