One of the many health benefits of papaya is that it contains a small amount of an enzyme capable of digesting two hundred times its weight in proteins. It is also known that just because papayas aid digestion, they should not be abused as those long-ago Caribbean natives did.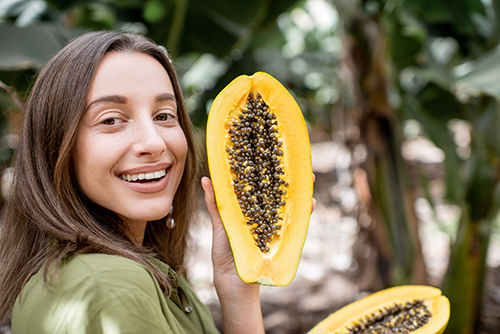 Papaya Nutritional Facts
The papaya is 88.8 percent water, almost as much as a melon (92 percent). This is why some call it the "tropical melon." However, the papaya and the melon belong to distinct botanical families with entirely different characteristics. Its content of energy-producing nutrients is relatively reduced in carbohydrates (eight percent), proteins (0.61 percent), and fats (0.14 percent). Most of its carbohydrates are formed from sugars: saccharose, glucose, and fructose.
Its vitamin content, however, is striking: one hundred grams of pulp provides 103 percent of the RDA of vitamin C and 18 percent of vitamin A for an adult. The B vitamins are also in small amounts except for folates, which, with 38 mg/100 grams, is as much as the mango or the feijoa, the richest fresh fruits in these substances.
Where minerals are concerned, the papaya is rich in potassium (257 ug/100 grams) and significant amounts of calcium, magnesium, phosphorus, and iron. Pectin (soluble vegetable fiber) makes 1.8 percent. Using sophisticated methods of chemical analysis, 106 volatile chemical substances have been identified in papaya pulp responsible for its aroma. This figure gives an idea of just how complex the fruit composition is. So many functions are unknown, and so many are yet to be discovered.
PAPAIN is a proteolytic enzyme (one that digests proteins), similar to the pepsin in gastric juice. Its primary source is the papaya tree leaves or its unripe fruit. Papain is significantly reduced in ripe papayas.
Health Benefits of Papaya
Papaya is easy to digest and enhances other foods' digestion. These are its primary therapeutic indications:
Stomach disorders: Papaya is recommended in cases of difficult digestion, gastric ptosis (gastric prolapse), gastritis, and anytime digestion is impacted by swelling of the gastric mucosa. Papaya supports neutralizing excess gastric acid. Therefore, it is helpful in cases of gastroduodenal ulcer, hiatal hernia, and pyrosis (heartburn).
Biliary dyspepsia and chronic pancreatitis: Papaya is of value because of its effect on all digestive processes and its shallow fat content.
Intestinal disorders: The papaya's emollient and antiseptic effect on the digestive mucosa makes it useful in any gastroenteritis or colitis: infectious, ulcerous, or spastic (irritable bowel). Studies carried out in Japan show that papaya, mainly when it is slightly green, has bacteriostatic properties, impeding the development of many enteropathogens that cause intestinal infections:
Papaya is highly recommended for infectious diarrhea.
Intestinal parasites: Papaya sap or latex, and to a lesser extent the pulp, have anthelminthic and vermifuge properties against intestinal parasites, particularly tenia (tapeworm).
Skin disorders: Papaya is a part of the suggested diet for those with skin disorders such as eczema, furunculosis, and acne because of its richness in provitamin A.
Papaya Scientific Facts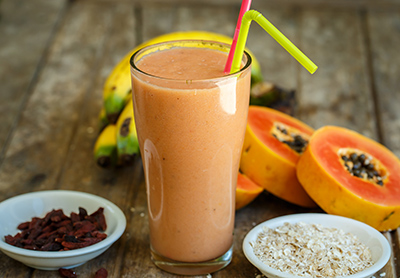 Scientific name: Carica papaya L.
Other names: Pawpaw, Melon fruit, Melon pawpaw.
French: Papaye.
Spanish: Papaya, Lechosa, Mamao, melon zapote.
German: Papaya.
Description: Fruit of a fast-growing herb-like tree 3-6 meters in height of the botanical family Caricaceae. The fruit usually weighs 0.5 to 2 kilos, although some reach six kilos. The green or yellow rind encloses a delicate yellow or orange pulp. Its center is filled with sour black seeds.
Environment: Papayas are initially from Mexico and the Antilles, where they even grow wild. Their cultivation has spread throughout all tropical areas of the world.
How to use and Prepare Papaya
FRESH: This is the most excellent way to eat papaya. The fruit sold in nontropical countries is usually picked green to facilitate transport. Consequently, they lose quality and flavor. Papaya makes an excellent breakfast or dessert, although it also goes well in a lettuce salad with lemon juice.
OTHER METHODS OF PREPARATION: The papaya lends itself well to soft drinks, shakes, and ice cream. Papaya jam is a popular dessert in the American tropics.
CANNED: Canned papaya allows it to be enjoyed throughout the world.
REFERENCES
George D. Pamplona-Roger, M.D. "Encyclopedia of Foods and Their Healing Power." George D. Pamplona-Roger, M.D. Encyclopedia of Foods and Their Healing Power. Trans. Annette Melgosa. Vol. 2. Chai Wan: Editorial Safeliz, 2005. 157, 158. Print. [health benefits of papaya]
Last update on 2023-10-01 / Affiliate links / Images from Amazon Product Advertising API