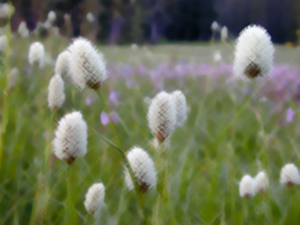 The entire intestinal tract is sensitive to the action of the many herbs for intestinal health. They exert two main effects on the intestinal mucosa:
Laxative – Herbs for intestinal health promote or accelerate intestinal transit. Moreover, laxative herbs are also emollient; that is to say, they soothe the intestinal mucosa.
Astringent – Medicinal herbs dry and constrict the skin and mucous membranes. By diminishing the mucous secretion, they exert an antidiarrheic action. They also coagulate the bleeding of tiny blood vessels (antihemorrhagic movement).
Almost all astringent herbs owe their properties to the tannin they contain. Tannins clot proteins of the surface cells, thus drying, hardening, and reducing the inflammation of the skin and the mucosa. Most herbs for intestinal health acting on the intestine can regulate transit, thus improving the body conditions so that healing will be complete, not only symptomatic. But we have to bear in mind that correct, healthy habits are required so that the treatment of intestinal afflictions will be effective.
Top Herbs For Intestinal Health
Purgative Herbs
These herbs for intestinal health produce a diarrhea-like evacuation. They exert an extreme laxative action, usually accompanied by intestinal irritation. They must be carefully used, and medical supervision is recommended to ascertain the causes of constipation. These herbs are not allowed for mechanical intestinal occlusions (tumors, intestinal torsions, volvulus, etc.).
Antidiarrheic Herbs
These herbs can stop diarrhea. The action is exerted employing one or several of the following properties: astringent, absorbent or adsorbent, intestinal antiseptic, and intestinal antispasmodic (which relax the muscles of the digestive tract).
Laxative Herbs
These herbs ease the evacuation of feces by increasing the water they contain, stimulating the intestine's peristaltic activity (contractions), or increasing bile secretion. Unlike chemically synthesized laxative substances, which exert an irritant action on the intestinal wall, these laxative plants do not provoke residual colitis as a side effect.
| | | |
| --- | --- | --- |
| Cactus | Olive tree | Alfalfa |
| Irish moss | Blackthorn | Barberry |
| Hemp agrimony | Fumitory | Boldo |
| Female fern | Dandelion | Papaya tree |
| Chicory | Tinnevelly senna | Purging cassia |
| Bladder senna | Flax | High mallow |
| Apple tree | Psyllium | Purslane |
| Patience dock | Tamarind | Wild strawberry |
| Cherry tree | Pumpkin | Mugwort |
| Shepherd's purse | Asparagus | Ash tree |
| Fig tree | Pansy | Garden raspberry |
| Black elder | | |
The laxative effect of plants is basically due to three mechanisms: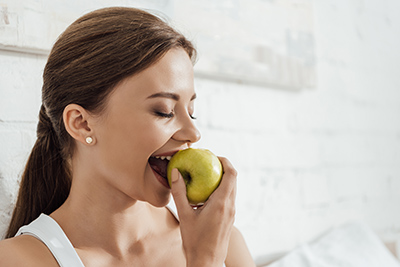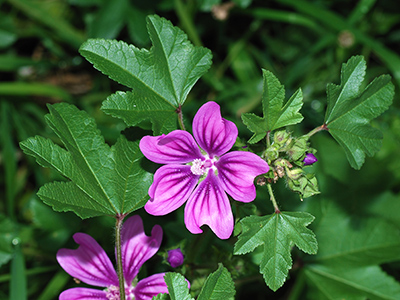 An increase in the amount of water that feces contain makes them more voluminous and softer. These are hydrophilic laxative substances whose most crucial active component is mucilage (as in the case of flax, plantain, high mallow, pansy, and psyllium).
By stimulating peristaltic activity (contractions). The most important active components of these plants are anachronic glycosides. When taken in high doses, they act as purgative (as in the case of tinnevelly senna, purging cassia, alder buckthorn).
By provoking the emptying of the gall bladder (cholagogue action). The bile flows into the small intestine (duodenum), which is most needed for digestion. In high amounts, bile has a laxative effect (as in the case of dandelion, boldo, fumitory).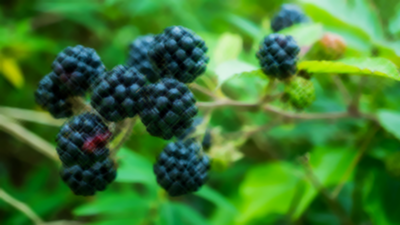 The beech tree provides the desired wood due to its charcoal, with antidiarrheic and antitoxin action.
Flaxseeds are one of the most effective and safe laxative substances known.
Some medicinal herbs are very effective as a laxative and astringent substances. Other ones, such as apples, normalize the passage through the intestines.
REFERENCES
George D. Pamplona-Roger, M.D. "Encyclopedia of Medicinal Plants." George D. Pamplona-Roger, M.D. Encyclopedia of Medicinal Plants. Ed. Francesc X. Gelabert. vols. 2 San Fernando de Henares: Editorial Safeliz, 2000. 476, 477, 480, 481, 484. Print. [herbs for intestinal health]